Lakeland Terriers
Back in around 1982 I decided I liked the look of the Lakeland Terrier and thought that it would be interesting to have a another breed and the Lakeland seemed to be the one that would fit the bill.
I contacted Sarah Drysdale of the famous "Manesty" Kennels and obtained my first Lakeland, namely, Manesty Moonraker ("Scamp"). I had great fun showing this dog. He was a great type of Lakeland with good temperament and showed himself well. He obtained his Australian Championship quickly and during his show career won many Group and in Group and in Show awards. I also showed his brother Manesty Mystic ("Jack") to his Title for Sarah in 1984 and his sister Manesty Mey Melody ("Julie") to her title in 1985/6.
In early 1983 we imported from the Lakeridge Kennels in England, Lakeridge Willow the Wisp ("Willow"). She also obtained her Australian Title during 1983/4. We then bred from her three times, once to Ch. M. Moonraker, once to Ch. Rama Running Riot and then to Ch. Louieville Buccaneer (Imp UK). She produced under my Coolaney prefix Lie Loose from the first litter who was shown to her title and Liz's Folly and Lawless from the second litter who were sent to Sarah. Willow then joined her children at the Manesty Kennels to continue her breeding days. Some of the Lakelands in the ring today go back to these dogs.
In 1987 we purchased from Sarah another bitch called Manesty Manor Born ("Sparky") who went on to many Best in Group and Best in Show wins obtaining her title very easily. We then returned her to Sarah who went on to breed some lovely Lakelands. Some of those in the ring today go back to Sparky.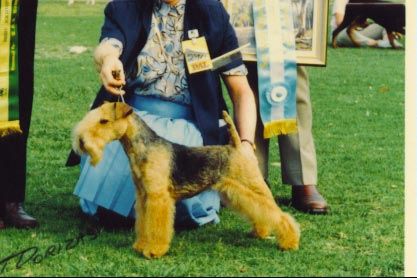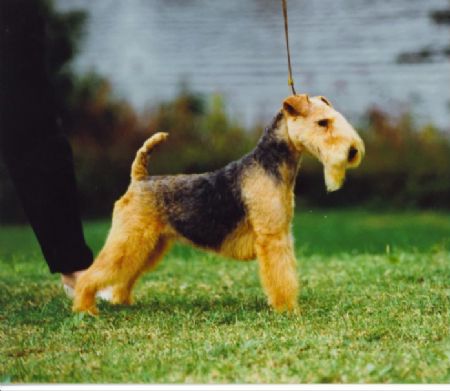 Ch. Manesty Moonraker Ch. Manesty Manor Born
I then had break from showing and breeding Lakelands until the later part of the 1990's when together with Neridah Sharrett and Lorraine Pitt we decided that we wanted to breed and show Wire Fox Terriers and Lakelands so we began the "Tripwire" Kennels. Under this partnership we approached Sarah Drysdale and purchased Manesty Lite Up the World ("Rock"). At this stage I still resided in New South Wales so it was Neridah and Lorraine who housed and showed Rock in Western Australia and gained his Championship Title. We went on and purchased another two bitches from Sarah and a bitch from Warren Mowles of the well known Sandimorn Kennels in Queensland. In around 2005 Lorraine retired from the partnership and Neridah and myself have continued on with the Tripwire Lakelands. Below are some of the Lakelands we have bred in recent years and we now have a lovely dog and bitch puppy out of Tripwire Apres Moi sired by Ch. Delzar Destination Down Under (Imp USA) who we are hoping to show throughout 2009.
Ch. Manesty Lite up the World ("Rock")

Tripwire Lulu La Rue ("Lulu")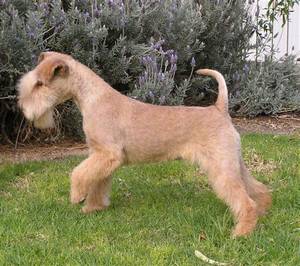 Tripwire Apres Moi ("Marley")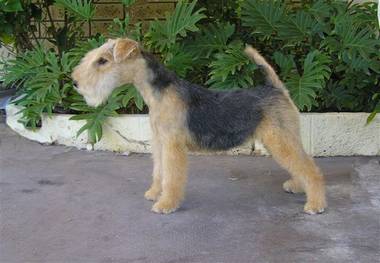 Tripwire Take That ("Robbie")