Hunter's Page
Let me introduce myself. My pet name is Hunter and my proper registered show name is AUST/FINN CH. COOLANEY UNDER COVER.
I was born in Southern River, Perth, Western Australia on 23 March 2005. I was one of two puppies. My mum is Coolaney Call Me Truble (Ruby) and my sister is Tara (Ch. Coolaney High Calibre). Here is a picture of us when we were just a few days old.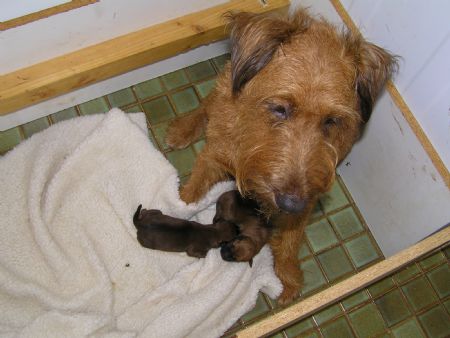 We use to go and play in the local park when we were young. Here I am at about 5 months old with my eye on something very interesting. Mum was too worried to let me off the lead in case I did not come back - now would I do that!!!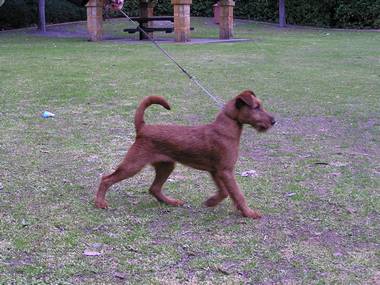 Mum showed me and Tara in Australia until we both got our Australian Championships. We have both had successful show carrers in Australia. Tara is now about to become a mum and me an uncle.
Here is another picture of me in Oz before I left when I was more grown up.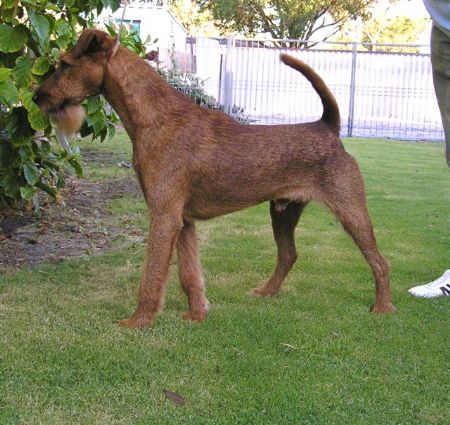 Then one day mum had an email from a very nice lady in Finland.
In late November 2007 after much toing and froing I was sent on the long journey to my new home in Finland with Ansku Linna and Eeva Laukkanen. I am thoroughly enjoying my new home and I have settled in well. I found the snow a lot of fun and wondered what all the white stuff was having never seen anything like it in my life before. It is very different to Australia. Very cold in winter but lovely in summer. I love relaxing on my deck chair as you can see. I love being shown in Finland and I have already gained my Finish Championship Title. My new mum tells me that I am now looking to gain my International Title during next year when the weather will again be warmer.
I met my first wife and I am now expecting my first litter of babies and we are all excited at the imminent event. I would also like to thank Jaana Nissinen who is taking care of me and tending to my every need.
Here are some more photos of me enjoying the snow, being shown, and relaxing with my friends.
I keep in touch with my Aussie mum and give her all my news and photos so she will be able to keep my page up to date. I am very happy and I am loving life.
STOP PRESS: I am now an International Champion - the first Irish Terrier bred in Australia to become one.
Hunter.